How will offering promotions increase your Shopify store's AOV and conversion rate?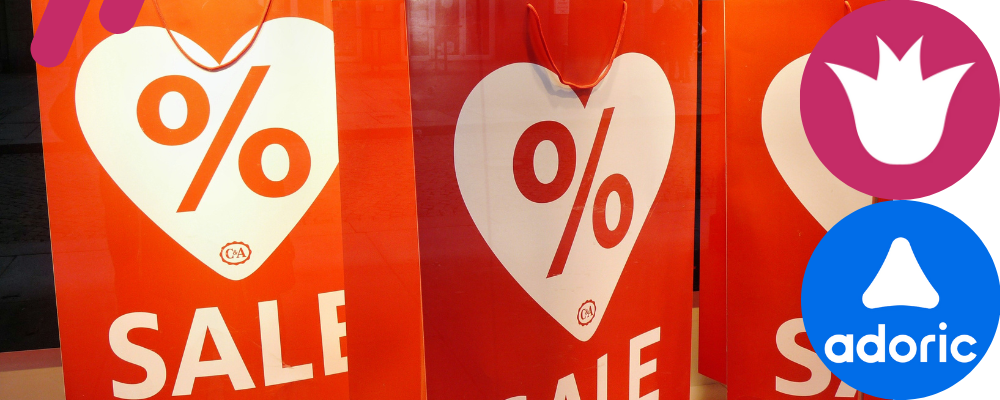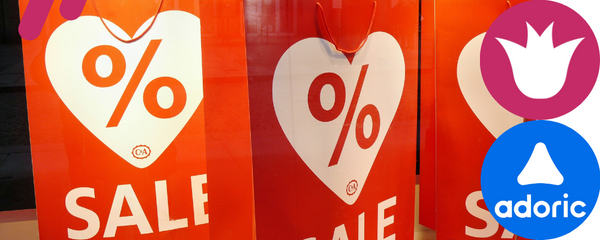 This article is in collaboration with the Shopify app Adoric.
We see promotions everywhere. At the supermarket, in the luxury shops, on online stores, everywhere and for every kind of product But why? Why sell products at a lower price than the original price? And why is everybody doing this?
At the end of this article, you will be able to understand everything about the psychology of promotions and why they are so important for you to use on your Shopify store.
Ready? Let's get started!
What are promotions?
In the simplest sense, promotions are incentives you offer to your customers with the goal of enticing them to buy from your store - or do other things like subscribe to your mailing list, share your product online, etc.
Often, promotions take the form of discounts, coupons, freebies, free shipping and many more.
Used effectively, promotions can help build awareness for your online store, attract more customers, and improve your website's conversion rate, consequently boosting your sales.
However, you can only see these results when you use them effectively.
Why are promotions so powerful in increasing your store results?
Online shoppers love free stuff. In fact, one of the easiest ways to entice them to buy from your store is by offering them promotional offers.
How did we know this?
Studies have shown that offering your customers some form of discount can improve your sales by as much as 70%.
And no matter how quality-conscious modern-day consumers may appear, truth is, most purchases are influenced by price. According to Hawk Incentives, 89% of consumers said their buying actions are often influenced by price.
Here's where things get interesting: 68% of shoppers say a discount offer can make them come back and complete checkout for their abandoned carts.
All these stats point to one thing: promotions can help you sell more products, improve customer retention, and reduce cart abandonment.
In essence, running an effective promotion campaign can help you:
Generate more leads - People easily get enticed with free offers and will likely do whatever you want, including signing up for your mailing list, trying out your demo and many more.
Boost customer loyalty - Customers will likely come back to buy some more from your store if they know they will always get a discount or free shipping.
Reduce cart abandonment - Shoppers will most likely complete their checkout when they have the incentive to do so.
Boost your store's Average Order Value (AOV).
How do promotions help you to increase your conversion rate?
Keep in mind one very important thing : "An act of purchase is very often (if not exclusively) driven by your emotions." - It is the result of a need, of course, but it is driven by your emotions.
During one of our WideBundle's users interviews, someone told me this : "Promotions get you straight into a buying pattern". Since this interview, this sentence echoed in my head because I thought it was so right. Take 2 min to think about it, and try to remember your behavior during big sales. It is exactly what happens when our eyes are seeing a special offer, we are like attracted by the offer!
So don't wait longer and start right now to implement promotional marketing on your website to increase conversion rate! Let's show you steps to go about it, starting with Adoric.
Use Adoric to increase your conversion rate
Looking to increase your conversion rate from your website visitors? One easy way to do that is by offering them coupon codes, no better incentive.
For that, Adoric allows you to display awesome popups which are gamified.
Boost your engagement with gamified popups - Promoting your coupon offers with regular popups might not always work. This is because they can be boring at times. Instead, spice things up by using gamified popups.
Gamified popups are simply popups with a fun game. They are fun to interact with, making them an excellent tool to boost engagement.
Adoric makes it easy to create gamified popups, and there are two major types you can create: Spin-the-wheel and Falling gift popups.
Spin-the-wheel is a type of popup that lets visitors play for coupons and discounts by spinning a wheel of luck. It looks something like this:
Falling Gifts, on the other hand, is also a type of gamified popup. Only this time players will have to click on falling gift boxes appearing on the popup. The content of the box they clicked open becomes theirs.
If neither type of gamified popup works for you, try the promotion bar tool; you are gonna love it!
What's more, you can also use Adoric to increase your conversion rate in your store by creating enticing promotional offers related to the product your visitor has in his/her cart. WIth this brilliant tool, you kill two birds with one stone, because you increase your conversion rate and you reduce cart abandonment.
You know, not everybody that starts checkout eventually completes it. And getting these shoppers back is a big challenge because most of them are likely not on your mailing list.
Adoric gives you three options to get them back:
Offer customers a discount on completing checkout. This will motivate them to go through with their order.
Display an exit-intent popup with a promotional offer just when a customer motions to exit your website. This will make them rethink their action and complete their orders.
Show returning visitors orders they left without completing and woo them with a discount offer to finish it up.
Use WideBundle to increase your conversion rate
WideBundle allows you to create product bundles in your shop, so it's the perfect tool to show special product offers to your customers and get them into a buying mood!
Our app has very cool features which incentive even more customers to buy, such as the blinking text you can add on your offers…
… or the banner "You save … $" and the crossed out price ...
… or the "check-out redirection" (without going on the cart page first).
How can promotions help you to increase your AOV?
The answer to this question is super logical ahah, the price of your offer is more expensive than the price of a single product so.. your customer spends more money and your AOV is increasing!
But don't worry and remember, even if the price of a bundle or special offer is more expensive than a single product, your customer will still buy because they will have the amazing feeling of getting a good deal! (Because they know that in the special offer the price per item is less expensive than if they would buy the same product but single!)
You want customers to spend more each time they shop from your store, right?
For that to happen, you need to use the right tool to do promotions effectively.
WideBundle and Adoric are two great apps you can use to create powerful, effective promotional marketing campaigns.
What can you do with these two apps? Let's find out!
Use WideBundle to increase your AOV
As you already know, WIdeBundle allows you to create special bundle offers in your shop, so thanks to this, you have the ability to sell several products to one single customer in one act of purchase. This helps you automatically to increase your AOV, you sell more products so your customer will pay more but he/she will have more advantageous price per product bought, so once again he will feel that he is getting a good deal.
With WideBundle you can pre-select the offer you want, and by pre-selecting one of your offer, you immediately highlight it and then it looks more important in the eyes of your customers who will have more probability to buy it.
Use Adoric to increase your AOV
Adoric is a conversion rate optimization (CRO) app that makes it easy to convert your website visitors into customers using smart promotion campaigns, further uplifting your AOV.
Adoric comes with several tools and features that let you create scroll-stopping promotions and show them to the right people at the right time.
One such tool is the Dynamic Free Shipping Bar. With this tool, you can offer free shipping to your customers only when their orders cross a certain value.
For example, you can make free shipping available only when customers' orders cross $100 in value.
The Dynamic Free Shipping bar ensures you don't waste money on free shipping and you get a lot of sales from it.
On top of that, it will tempt your customers to buy more. And the more they buy, the more your AOV grows.
Besides the Dynamic Free Shipping Bar, Adoric comes with an intuitive, easy-to-use design editor you can use to create popups and floating bars to market your promotional offers.
For instance, if you have a valentine's offer you would like your visitors to know about, you can create a popup to promote it on your website.
The coolest part is that you don't have to build these popups from scratch. Adoric has over 1000 pre-designed popups you can easily customize and use. No coding or design skill is required.
Furthermore, Adoric comes with advanced targeting and trigger features that ensure your promotional popups appear at the right time and to the right audience.
Discover Adoric
Adoric is currently offering a 15% discount on all its plans plus free onboarding for everyone coming from this link.
Plus, Adoric offers a generous free plan, on which you get to enjoy 1,000 pageviews per month. The paid plans start at $9/month, after which you can migrate to the Essentials and Standard plans. They cost $29 and $79 per month respectively.
Adoric is very easy to use. And if you ever get stuck using it, be rest assured you will get help instantly.
Discover WideBundle
1. Increase your turnover
✔️ Boost your revenue per visitor
✔️ Boost your average shopping basket (+30% on average)
✔️ Boost your conversion rate
2. WideBundle is super intuitive
✔️ Create your offers in 5 minutes
✔️ Step-by-step instructions on how to use the application
✔️ Articles, videos and personalized assistance if needed
✔️ Customer support is available 7 days a week
✔️ WideBundle evolves regularly based on user feedback
3. And much more
✔️ 100% customizable design
✔️ Compatible with all Shopify themes
✔️ Integration with Page Builders
✔️ Integration with Cart Drawers
✔️ Integration with C.O.D. forms

You have 14 days FREE trial, download WideBundle now by clicking on the link below!